Make your way by unexpected routes
While a packaged business application will give you a solution with best practices and stable operations, the competitive edge that helps you compete and expand in your market comes from unique practices, next practices and innovations in your products, processes and people.
The buzzwords of digital technology such as artificial intelligence are no longer in the 'proof of concept' phase but are actually being used increasingly in business.
Few examples of live use cases are
Conversational Platforms (Alexa, Siri for entertainment, shopping)
Block Chain (Spotify for royalty payments)
Robotic Process Automation (iXigo for web-checkin's)
Internet of Things (Apple Watch for notifying irregular heart rhythm)
How do you come up with disruptive business models or innovative solutions to your practical business problems? We approach this through design thinking and lean startup.
Engage us with a specific business challenge and we can work with your teams conducting design thinking workshops handholding you through all stages including prototyping and deploying.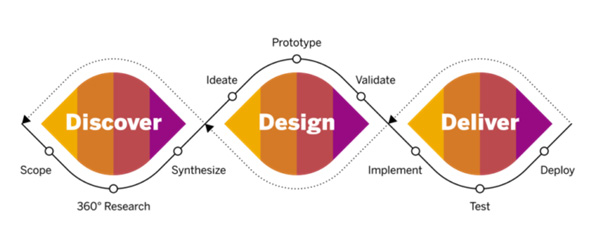 Using the platform approach and microservices, we can help you quickly build a solution from scratch that you can test without to much upfront investment, iteratively make changes and finally deploy and run.
TYPES OF INNOVATIONS
Rethink processes
Convert manual steps to system transactions
Automate workflows, alerts
Change person driven to conversational user interfaces
Improve controls using GPS, Image recognition
Improve visibility of physical activities in real-time
BENEFITS
Design Thinking & Lean startup approach to ensure low upfront investment
Rapidly develop working prototype
Agile approach for quick launch and iterative improvements in solution
Participation of senior consulting team for richer ideas
WHAT WE WILL DO
Formulate innovation challenge based on problem statement
Undertake observations and interviews
Conduct Design thinking workshops
Technical platform support
Iteratively develop solution on platform
Testing
Training
Data Migration / Cut Over
Go Live
Handholding Support
Ongoing Innovation
WHAT YOU NEED TO DO
Program Management & Sponsorship
Top level ownership
Identification of problem statement and key stakeholders
Provision of required software licenses, hardware, connectivity
Adequate involvement and time from the stakeholders - upto 5 full days in a row
Quick decision making
Testing and feedback
Change Management
Clean Data in the right form
With history of developing innovative solutions, we believe we can provide that edge to your business beyond the core applications.